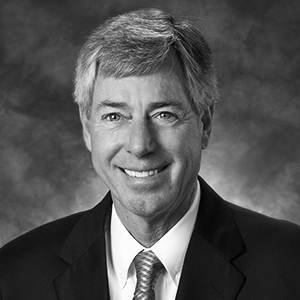 Bill has been actively involved in business, political and public realms, and civic endeavors throughout his life. Professionally, Bill began his career in mid-1970 after graduating from Southwestern University and studying at Harlaxton Institute in Grantham, England. He returned to Fort Worth and joined the Rigg Group, Inc., a financial services and brokerage holding company. He held executive positions with the Wm. Rigg Co. until the company's sale in 2007 to Hub International. He currently serves as the chairman emeritus for Hub International Texas.
Bill was an active board member and executive committee member of Summit Bancshares, Inc. from 1984 to 2006 when SBI was sold to Cullen Frost. He has also served on the board of directors of Liberty Bancshares, Inc., Texas-New Mexico Power Company/First Choice Power, and Integrated Transfer Systems.
His public involvement is wide-ranging. He currently serves as chair of the board of directors of the DFW International Airport and chairman of North Texas High-Speed Rail Commission. He has served as a member of the Texas Transportation Commission TXDOT, Texas Water Development Water Board, Fort Worth City Council, and the North Texas Tollway Authority.
He has also served as a trustee of the Sumners Foundation and a board member of the Southwestern Exposition and Livestock Show and Rodeo. He has previously served on the boards of numerous organizations, including Southwestern University, Fort Worth Country Day, Museum of Science and History, Fort Worth Chamber of Commerce, and Streams and Valleys, Inc.
Bill is honored to have received numerous awards and recognitions, including the 2009 Fort Worth Outstanding Citizen Golden Deeds Award.