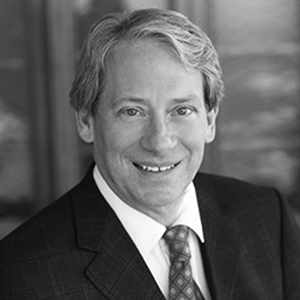 David was a 1980 Sumners Scholar at the SMU School of Law and joined the Foundation's board of trustees in 1995. In 2006 he was elected one of two vice chairmen of the board and subsequently succeeded James Cleo Thompson Jr. as board chairman from 2011 to 2018.
David graduated summa cum laude as an anthropology major from the University of Texas in 1977 and was a member of Phi Beta Kappa. In addition to being selected a Sumners Scholar at the SMU School of Law, he was a member of Order of the Coif and served as notes and comments editor of the Southwestern Law Journal during his 3L year.
Following graduation from SMU, David joined Dallas-based Carrington Coleman as an associate, focusing on lending, real estate, and oil and gas transactions. He became a partner in 1987 and has served on the firm's executive committee since 2011.
In addition to his service to the Sumners Foundation, David is board member and past president of the Dallas Philosophers Forum and past president of Unity Church of Dallas, where he is actively involved as an adult education instructor. He and his wife, Ann, have two children, Colin and Kelly ("Kai").